Cricket Round-Up – 8th June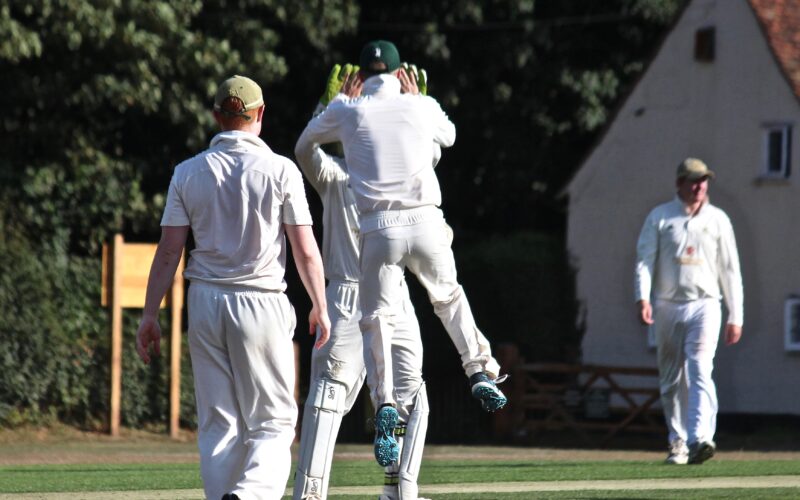 Preston 1st X1 v Broxbourne 1st X1
Preston dodged the rain on Saturday to travel to Broxbourne in what was to be a hard fought game with an excellent Broxbourne side who were also sitting near the top of Div 1. Preston put together another solid performance in all departments to secure victory by 37 runs.
On losing the toss Preston were asked to bat; a decision that was to ultimately work in Preston's favour. However, Broxbourne's attack was accurate and determined and the reliable Balcombe was caught in the gully off Broxbourne's Trafford for 5, early doors. Fellow opener James Stevens was also caught off the bowling of Ridley for 25 just as he was starting to get going.
The stand-out performances with the bat however was Preston No 3 George Biggs who steadied the ship and put together a highly polished innings of 69 and No 6 Pete Gooden who fell for for 49. Both played with great composure and ensured the innings momentum continued with some elegant shots and clever running. Ably supported by Hill (32) and Collins (18) who all pressed hard to steal runs all around the wicket, forcing fielding errors as well dispatching loose deliveries to the boundary and it was these key innings that ensured the Preston innings closed on a competitive 243 / 7.
Broxbourne's openers started the home sides innings in smart fashion with Dissanayake particuraly partial to balls with any width. It wasn't until the 19th over with the score at 68 until the first wicket fell caught by Biggs at backward point; a rare loose shot from Dissanayake on 43 off the accurate and frustrating bowling of Waters (1/24).
It was again the slower Preston bowlers that started to get into the Broxbourne innings with Anderson bowling the comfortable Ahmed for 53. From then on no-one else really made a score. Willis and Ridley both made 20's before being undone by Anderson (3/39) and Murrell (2/48). Broxbourne's Skipper Davies had intentions to hustle the Preston bowlers and get the innings moving again but played a loose shot to be caught short of the boundary by a lurking Morecroft in the deep for 0. Collins – enjoying his first season with the club, bowled with great accuracy; particularly in his second spell to also force the errors and took down three of the Broxbourne players – all caught by Biggs again out deep and the predatory Hearne at mid-off – returning commendable figures of 3/41.
The Broxbourne innings just slipped further behind the rate required. Tight bowling and some excellent work in the field by Preston meant runs became simply harder to find and shot's became looser as the home side tried to keep up with the rate. The deflated Broxbourne innings closed short of the Preston total at 206 / 9.
A tough test for Preston for sure in all departments but had performed well and kept on top of the game from the start. Some determined and bullish batting and the creation of strong partnerships meant a defendable total was posted. Once again, accurate bowling and excellent commitment in the field unstiched the home sides intentions as the Preston total of 243 slipped further away from Broxbourne.
Performances like this will give us confidence. However, we can't afford to get complacent after a positive start and must continue to work hard both together as a team and on our own individual areas of the game. Importantly too we need to remain calm under pressure when the pendulum might (and will) swing against us. But as a unit there's every confidence we can continue to build on early success and continue to make our mark in Div 1.
The Comet – https://bit.ly/2MNm96b
Preston 2's v Cockfosters
Preston 2s achieved consecutive Div 6A victories by beating Cockfosters 2s by 21 runs.
Choosing to bat first in a match reduced by morning rain to 42 overs per side, Preston started solidly enough after the dismissal of Casey Walker for 10, reaching 73-1 just after halfway before recent batting frailties kicked in. Losing the previously untroubled Will Gallimore for 19, the innings lost momentum as David Fleckney and Olly Catlin both were seen off without scoring. When the inform Will Mercer holed out for 48, Preston quickly fell away with only a flurry from brother Tom (19) pushing the total to 145 in quite good batting conditions, the tempting left arm spinners of the visiting Ravi Solanki (5-16) proving the downfall of the Preston lower order.
With not that many to defend an early wicket for Tom Mercer was welcome but Cockfosters reached 62 without further loss, several difficult catching chances being spurned by Preston's infielders. Ash Catlin's frugal 3-20 turned the game Preston's way though and he found an effective ally in Walker's nagging medium pace (4-14) as both bowlers took two wickets in two balls to speed Cockfosters' decline. The catches began to stick (two for Olly Catlin and two for Will Gallimore) and Cockfosters last 9 wickets fell with still 21 required and 28 balls unused.
Preston 4s v Baldock 3rds 
Despite losing players to poor availability up the line, and challenging weather conditions, the never say cancel attitude of the 4th team prevailed on Saturday when they took to the field against Baldock 3rds at Whitwell.
Luke Ponder (0-4) and Joe Clark (1-7) bowled miserly opening spells as having won the toss, Baldock struggled for runs. With debuting Whitwell skipper Stuart Bell (1-24) and Iain Purton (1-23) keeping things quiet in the middle innings, the spin duo of Chris Newell (0-21) and Mark Carter (1-23) turned the screw and the ball in the latter overs, keeping Baldock to 117-4 off 40 overs. All were backed up by excellent Preston ground fielding, particularly from Ponder, Clark and Bell.
Purton and Clark opened the Preston innings and never looked troubled by the steady pace of the  Baldock bowlers. With Joe Clark outscoring his partner and moving towards a maiden half century, he top edged a full toss and was caught at mid wicket for a classy (and personal best) 44. When Purton followed shortly after, clipping one to backward point for a solid 53, it was left to the returning Peter Robbins (8*) to finish things off with two fours as Preston made 121-2 from 19.2 overs.
5 wins from 5, keep it up lads!