Match Reports – July 18th / 19th – A Momentous Weekend…
21 July, 2020
|
Categorised in:
News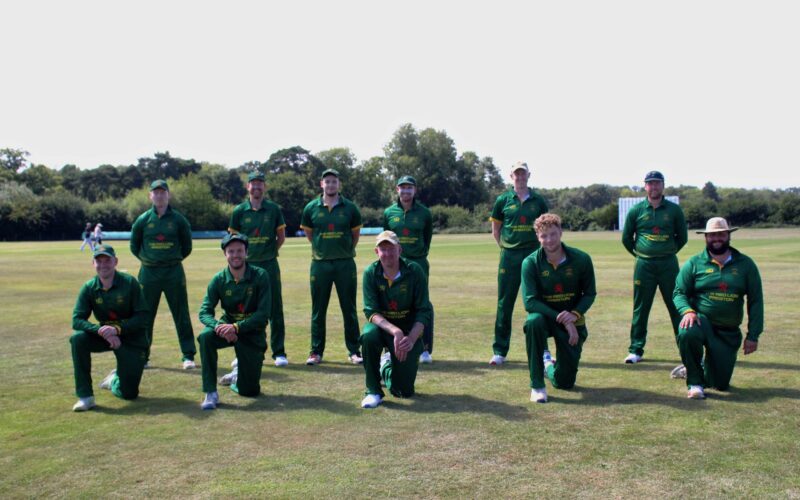 Preston First X1 beat Shenley CC in first weekend of Covid Championship Season 2020
Preston 1st XI began their Covid-19 Championship season away to Shenley Village on Saturday, marking their debut in the new league with 71 run win.
Upon winning the toss on a good-looking deck, – skipper Max Anderson unsurprisingly elected to bat first. Pete Gooden (29) and James Stevens (21) set about their work against the pink ball in tidy fashion as Preston reached 52-0 from 15 overs. However, with the introduction of leg spinner Nikhil Borkhatria (9-4-14-4) Preston's promising start stuttered, with Stevens was the first to go, chopping on before Gooden was too dismissed LBW plumb in front. Jack Stevens was soon also adjudicated to be in front and at 73-3, which soon became 115-6, the bowling side had fought back well. 
With Will Gallimore (23) joining Jack Morecroft (47*) at the crease, Preston desperately required a partnership to provide a platform ahead of the final 5 overs. The two batsmen ran hard and punished the bad ball to swiftly put on 52 runs off just 44 balls and at 167-7 when Gallimore departed in the 38th over, the rest of the lower order had their sights on pushing the score towards 200.  Henry Morecroft (17) joined his brother and continued the momentum with a quick-fire 17 from 15 balls to leave Preston at 188-8 with two overs left. The re-introduction of Borkhatria stemmed the flow and with two wickets in his final over the innings closed at 196 all out from the allotted 45 overs.
A solid if somewhat under par score necessitated a good start with the ball, which duly came as Morecroft (9-1-42-1) and Stevens (4-3-15-3) removed both openers in consecutive overs, before Stevens claimed two more scalps to leave the home side reeling at 30-4.  Wickets continued to fall as Tim Collins (8-0-25-2) and Pete Murrell (8-1-27-2) backed up the opening spell, with the game all but over as a contest with Shenley 87-8. A smart rear guard display from wicketkeeper Will Thompson (25) delayed the close but once Anderson (2.5-0-6-2) brought himself, he soon claimed the remaining two wickets to get Preston off the mark for the 2020 campaign.
A pleasing start for the newly promoted side against what was an under strength Shenley XI, but plenty to work on still ahead of Letchworth's visit on Saturday.
Preston 2X1 in narrow defeat against Radlett 4X1
Preston 2's welcomed visitors Radlett for their first match of the constricted 2020 league season. Positives could be taken from the game for both sides and considering the Covid issues inflicted on the season and the lack of cricket under the belt this year for all players; there were some excellent all round performances.
Preston lost the toss and the visitors elected to bat. Waters was into the wickets early removing opener Ingram, No 3 Singh and No 4 Jackson in relatively quick time. Young opener Muralitharan and Skipper Fielden in at 5 started however to re-build. With sensible running close to the wicket they caught Preston napping on occasions and they put the all too frequent loose ball away with severity; full-tosses were given the treatment as Preston probably fed Radlett 50ish runs.
Muralitharan played a mature knock for his young age before being c & b bowled for a well made 87 by Ashley Catlin now coming down the hill. Skipper Fielden also missed out on a ton making a well made 89 having given a chance earlier on in his innings. Muhammed came in at No 8 and gave it a bit of long-handle to take the Radlett total to 236/7 off their 45 overs. All the Preston bowlers have had better days it's fair to say with the exception of Walker however who found line, length and rhythm straight away up the hill and was unlucky to not pick up a wicket.
Preston's innings started to flounder pretty quickly after losing openers Hearne and W Mercer as well as Henry Gallimore having a go at No 3 – all falling to the canny and experienced Browne. Tom Mercer played some decent shots and looked like taking the game to Radlett but was caught for 16 having made a start. Young Gabriel Ryan showed mettle and dug in for several overs and played some good shots; finding the gaps and running hard but was also caught on 19 having made a decent foundation of an innings.
Catlin dug in and worked the ball well and started to create an innings along with Walker. All going well until Cat was bowled on 35 round the legs trying to shovel sweep Singh into a gap which brought James Battersby in at No 9.
It was the Walker/Battersby partnership really took to the game from being dead in the water to a potential win – James blasted a powerful 50 and Walker also found some runs after a sluggish start. Both worked well and re-built – taking Preston's score ever closer and Radlett paying more attention to the scoreboard than they were. Walker was eventually adjudged stumped having dug in well in a very tight call. This saw Waters at the crease and he and Battersby built-on further.  Some lung busting running; overthrows and general panic from both sides edged the game even closer. James fell with score on 212 with a decent reaction grab by Jackson at cover after a potentially match winning knock of 51.
Nerves were tense on both sides and everyone was getting a little bit ragged with each other; panicky overthrows and tired fielders gave Preston a few more runs than they probably should have had in the final few overs. Waters and No 11 Oliver Gallimore had to go for it and with two sixes on top of 10 or so scored from the long-handle of Waters, it would go down to the wire. But with 3 balls to spare and 10 required it was boundary or bust. Browne's final over finally found a tighter line and cleaned Waters up for 27 to pick up his 4th wicket and see Preston all out just 10 runs short, having been out of it only an hour or so before. Just goes to show.
An excellent game all in all and one that Radlett were worthy winners of. Preston were always behind the rate in reality despite excellent attempts with the bat lower down from Catlin, Walker, Batts and Waters – and perhaps caught Radlett napping having taken the top order out quite quickly and the foot off the throat. With increasing availability Preston will look to re-build for next week. The added pressure of Covid restrictions were well managed by both sides and prove that cricket can be enjoyed and excellent games hosted and enjoyed despite these unusual and difficult circumstances. Go well Radlett for the rest of this unusual season.
Preston 3X1 beat Bushey 3X1
Bushey posted 165-7 and Preston comfortably won with 166-4 in the 31st over.
Preston 4X1 v Northampton Exiles 3X1
The 4th team started life in Division 10B fielding a wide range of youth and experience with the evergreen Chris Newell beginning his 65th season for the Club. Winning the toss and batting first against Northampton Exiles III's, Preston immediately lost openers Joe Clark and Craig Tennant but Adam Turner (35) and Luke Ponder (20) showed a steady nerve and some fine shots in taking the score to 41-2.
However a flurry of middle order wickets and excellent Exiles fielding left Preston reeling on 81-7 at the halfway 20 over mark. Biggs (42*) together with Tom Harvey (15), Carter (13) and Hamilton (15) ensured some respectability in taking the score to 163 all out off of the allotted 40 overs.
In reply, Exiles were never really in trouble despite losing their openers to off spinner Dan Phillips (1-22) and Adam Turner (1-31). Third wicket pair Chiraig (61) and Dilpesh (35*) took Exiles most of the way to victory with Newell (1-9) and Biggs (1-22) picking up late wickets.
A good run out for the 4's and with everybody batting and eight bowling, hopefully a few cobwebs blown away.