Junior Cricket Round-Up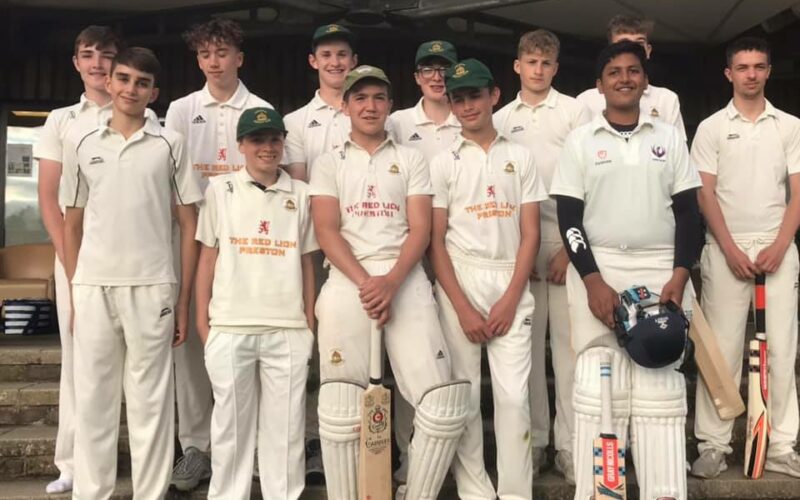 Preston u-12's v Ickleford u-12's
After a gruelling schedule of four games in the last five weekday evenings, the U12 league season came to a conclusion against league champions Ickleford. The lads were really up for this one and had learned from the defeat against the same team earlier this week. Joint captains Harry and Rob set good fields and opening bowlers Daniel (2-15) and Rob (3-17) kept the pressure on the early batsmen.
When Xander (w/k) took an excellent one handed catch to dismiss Jamie and followed up with a stumping of Leo, Preston were flying high with Ickleford 26-3. Archie (30*) and Elliot (19) recovered the innings well, but wickets fell regularly. Ally (1-12) took a superb one handed diving catch at mid off and Sam bowled a good closing spell of 1-5 to restrict Ickleford to 118-7 off 20 overs.

Ickleford opening bowlers Leo and Jamie both bowled fiery opening spells and had Preston in trouble at 18-3 after 6 overs. Ally (31*) survived and with Harry Catlin (19*) continued to chip away at the target. However, the excellent Ickleford ground fielding meant that Preston couldn't quite get up with the required run rate and they closed on 97-4 after 20 overs.
A good performance lads and great to see you learning from previous games and bowling and fielding so well as a team.

Unfortunately we didn't make the county quarter finals this time, so Sunday's Lancot trophy will be the last action for this season.
Nigel Biggs
Preston u-15's v Old Albanians u-15's
The U15's completed their colts journey with an exciting and hard fought game away to Old Albanians.
Losing the toss Preston were in the field and Adam (4-0-17-0) and Joe (4-0-25-0) restricted the home side to 31-0 off the first 6 overs. Gabe (4-0-24-0) and Alex continued the good work with Alex (2-0-13-2) getting the opposition skipper caught by Olly C and the other opener stumped by Olly S. However OA's upped the scoring rate as the Preston bowlers were a tad too short and despite wickets from the late arriving Tom S (2-0-17-1) and Tom H (1-0-14-1) both to catches from Luke OA's continued to find the boundary. Fittingly Olly C (1-0-4-0), the lads captain over most of their time in the colts, bowled the final over. A couple of dropped catches and some indifferent fielding in the last few overs meant OA's posted a challenging 141-5 from their 20 overs.
However the pitch was good and a short boundary on one side meant the total was within reach if the boys applied themselves.
Push and Adam opened up and as Push had decided to sledge the OA's players during their innings he got it back tenfold! However undeterred he played some classy shots and together with Adam they laid a great platform in taking the score to 70-0 off 12 overs meaning we needed 9 an over for the last 8. Push (40* off 38 balls) retired shortly after and Olly C joined Adam and their running between the wickets meant we easily kept up with the rate. It was a surprise when Olly C (11 off 8 balls) was bowled with the score on 103 and we then suffered a second blow when Adam (42* off 43 balls) had to retire. Luke (9 off 4 balls) looked in the mood but was run out in a mix up with Gabe. But with 23 needed off the last 3 overs and Gabe and Joe looking confident the game was in the balance. However a tight couple of overs meant we needed 12 off the last. Gabe (10 from 11 balls) hit a 2 before being bowled which brought Olly S to the crease. 2 off his first ball got the crowd cheering and then a big swing saw the ball apparently sailing over the mid-wicket boundary for 6, however from nowhere an OA's fielder appeared taking a great running catch to effectly win them the game. With 8 to win off the last ball Joe (4 off 7 balls) was bowled which prompted some unnecessary comments and behaviour from the opposition which tainted an otherwise excellent game of cricket.
It's been really enjoyable watching the lads grow and improve and it is great to see so many of them now playing regularly for the senior teams. Perhaps an end of an era but hopefully just the beginning of their cricketing journey as the team has been blessed by some very good cricketing talent and I look forward to seeing them improve as they continue to make their mark at senior level.
Iain Williamson
Preston u-12 v Letchworth u-12
A shock result at Whitethorn Lane, Letchworth tonight where the U12s posted 107-4 off 20 overs, mainly thanks to Sam 20, Daniel 20, Rhys 10*, Nid 14* and plenty of wides.
Despite a wicket with the second ball of Letchworth's innings, Preston's bowling was below par but credit to Adam (26) and Ami (30*) who took full advantage as they reached 109-3 in the 17th over to record their second win of the season.
Nigel Biggs