Huge thanks to John Jeffers…
22 June, 2020
|
Categorised in:
News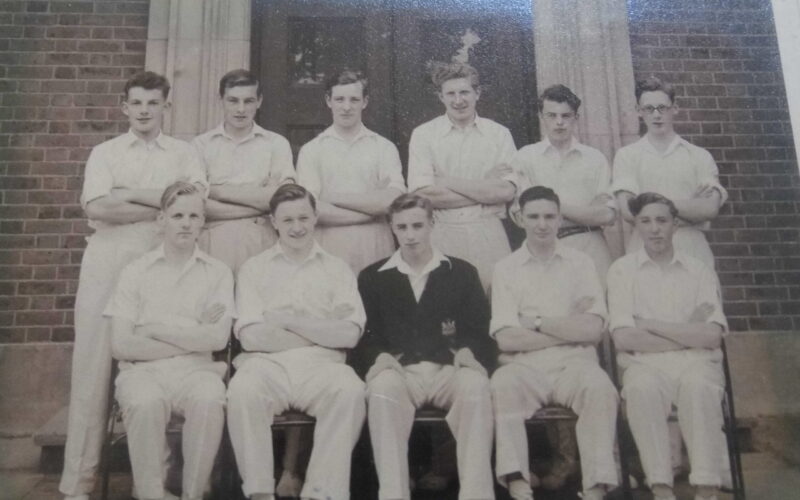 A little bit about one of Preston's loyal of supporters over recent seasons and regular face at predominately First X1 matches.
John has very kindly assisted us and enabled us to get the new Championship kit created.
A little bit from John…..
"Just a little quiz for starters! Can you identify the trouble maker in the above School team photo taken at the Kimbolton tournament in 1954? I was seduced by the game long before that, probably around 1947 when playing 2-man cricket with friends in the local recreation ground. I can remember watching two other somewhat older boys playing in the distance and I thought it would be fun to play with them rather than with my friend. Taking courage I went over to them and offered my participation whereupon they told me I was not good enough and I was too small and too young anyway. Some years afterwards I found out that the two older boys were Allan Moss and Donald Bick – bless them both they are no longer with us.
My first brush with county cricket came very shortly after making the acquaintance of Messrs Moss and Bick and whilst staying with my aunts in Bournemouth. They had no interest whatsoever in cricket and were pleased to bundle me off to Dean Park (not Dean Court the football ground) where Hampshire were playing Gloucestershire and I can remember a large blond lady in the members' enclosure holding court with all and sundry. She turned out to be Tom Goddard's wife who was expressing strong opinions about just about anything. Sam Cook was another Gloucester luminary and Rogers, McCorkell (until recently the longest lived county cricketer) Cannings and Knott were playing for Hampshire.
In 1949 the Autralian "Invincibles" toured and I wanted to watch them play against Hampshire at Southampton but did not bargain for the fact that Bradman was not in the team. I think many people at the ground shared my disappointment but this was somewhat assuaged by an announcement on the PA that "Mr Bradman has agreed to take a net with Messrs. Miller and Lindwall. Making haste for a position behind the net I waited there in anticipation of the great man facing those two bowling giants. I watched Bradman's footwork and his shot selection and came away thinking I had batting completely "sussed". 71 years later I am still working on it!
Anyway, I enjoyed myself with probably four decades of club and village cricket through the 50's, 60's 70's and 80's. I made 3 centuries of varying standards and still love the game to bits.
Needless to say I am looking forward to my association with Preston CC and even hope for a tad of cricket this year."
Many thanks for all your help John in helping the club take it's next step. It's greatly appreciated and hope to see you soon.