Grand Slam Weekend – 120 POINTER !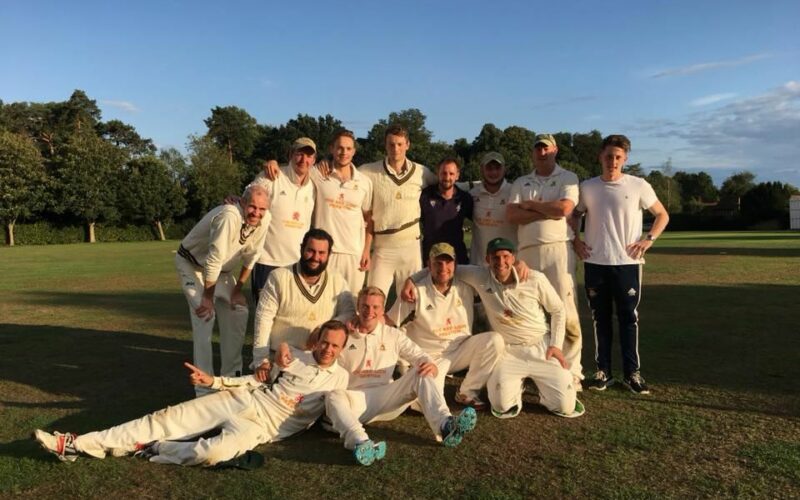 Preston v Harpenden 2nds, SHCL Div 1 – 1st June 2019
Preston took their talents back home this week to host a strong Harpenden 2XI, a mainstay of Saracens Herts League Division One in recent years. In another seesaw hundred overs, it was once again Preston's multi-faceted bowling attack that delivered a well – deserved 30 points, to make it three wins from three since their early season washout.
After another win at the toss for skipper Max Anderson, Preston's opening pair of Lewis Balcombe and James Stevens made their way out to the middle for the third week in succession. Unfortunately, previous week's performances bore no relevance and owing to some fine bowling and even better fielding. Preston were soon 13 for 2 in the 5th over – with both openers back in the hutch. Under clear blue skies, a much-needed rebuilding job progressed between George Biggs (37) and Jack Morecroft (55) in a partnership of 73 for the 3rd wicket. With Biggs in particular peppering the cover boundary, they provided the semblance of a platform, on a flat deck, for what was hoped to be a significant first innings score. Sadly, the heat got the better of Biggs who after struggling through a migraine was bowled through the gate by Harpenden's impressive young seamer J. Gill.
Ben Hill, well rested from the previous week, joined Morecroft to push the innings on further. After a tricky start, Hill (35) began to find his feet at the crease. The two combined for another useful partnership of 48. However, after Morecroft was sent packing via a deflection off the keeper's pads, Harpenden began to work their way back into the contest. In this pursuit they were indebted to C. Stewart behind the stumps – who in a remarkable period of glove work – added two more stumpings to his name along with a catch to bring to an end another infinitesimal Peter Murrell innings.
From 144 for 4 at the second drinks break, Preston conceived to fall away towards the back end of an innings for the second week running and had their skipper Anderson to thank for some valuable lower order hitting which enabled them to close their innings at 202 all out. M. Smith was the pick of Harpenden's attack, returning figures of 9-2-28-5.
A good start from Preston's bowler was imperative to prevent Harpenden breaking the back of the run-chase early. Stalwart Mark Waters (10-3-32-3) duly delivered; clean bowling Harpenden's aggressive opener, Reeves. Nonetheless, Harpenden's top order were not going to make it easy work for Preston's attack and their 1st drop batman M. Howard (33) got things moving immediately with several well-judged attacking shots off James Stevens and Waters to bring the score to 58 for 1 at the end of the 15th over. Needing less than 150 for victory and with 9 wickets still in hand, Preston desperately required a partnership breaker. To this end, Anderson turned to debutant Tim Collins (10-1-35-2), who in his 2nd over struck Howard in front. Then Anderson caught C. Stewart at mid-on off Waters to leave Harpenden reeling at 61-3 when drinks were taken in the 17th over.
From this point on Preston never looked back and through the middle session conceded just 42 runs from 17 overs and took 4 more wickets, including a remarkable one-handed caught and bowled by Anderson (10-3-22-3). With Harpenden requiring over a run-a-ball with just 3 wickets in hand, victory was all but assured. Despite an impressive innings at number 7 from J. Stewart (38), the game was over as a contest and Harpenden could only crawl their way to 165 for 9 at the end of their allotted 50 overs.
Preston 2nds v Old Camdenians, SHCL Div 6A
Preston won the toss and chose to set a score away to Old Camdenians. Callum Blair went early but the second wicket partnership of 87 between Pete Gooden (81) and Will Mercer (41) set a good platform for the middle order. Good contributions throughout led to Preston amassing 253 all out in the 49th over ,with skipper David Fleckney (51) passing fifty.
Old Camdenians set about the target aggressively but Ollie Gallimore took wickets at vital times giving him impressive figures of 3 for 35 off 10. Preston's three spinners of James Battersby (1-36), Ashley Catlin (1-32) and a superb spell from 15 year old Alex Gallimore (1-42)  proved to be the difference despite a classy 131 from Old Camdenian's captain Harry Gravett.
Preston 3rds v Parkfield 2nds, SHCL Div 9B
Preston 3rds recorded their first win since July last year, ending a run of 9 successive losses. An aggressive and testing opening bowling spell by James Skirrow ensured Parkfield's batsmen never really got going, although a couple of gutsy knocks by the visitors' middle order meant their innings almost lasted the full 45 overs. But some fine fielding and consistent bowling, particularly by Gurpreet Singh, Alex Williamson, Iain Williamson, and Andy Riant, kept Parkfield to 138 all out.
In response Preston lost Alf Rehman early on, and when the experienced Mark Smith and Matt Burleigh fell in quick succession, another defeat looked on the cards. Fortunately, last week's 4th team centurion John Garnham continued his fine form, making 49 at a decent rate, well supported by Iain Williamson (24). Still, when they both fell with the score in the 90s there was work to be done. Enter that man Skirrow once again, helping himself to the player of the match award with a rapid 21*. With Chairman Paul Constantinidi making 16* at the other end, Preston got home with plenty of overs to spare.
Preston 4ths v Broxbourne 4ths, SHCL Reg Div B East
The 4th team travelled to Broxbourne hoping to continue their good early season form, however chances looked slim with Preston at 19-3 and Biggs, Saunders and Ponder failing to trouble the scorer. Tennant (40) and Carter (18) started a recovery until Carter fell to an excellent, one handed caught and bowled. Tennant and Newell (9) continued to add runs but when they both departed, a valuable lower order partnership of 36 between David "no byes" Kay (20*) and Arif Islam (12) helped Preston to 131 all out in the 38th over.
In reply, Broxbourne started quickly, throwing the bat at anything on or off line, racing to 27 from the first four overs. Nevertheless, the steady line and length of Hamilton (3-50) prevailed as he clean bowled the first three batsmen and lifted the Preston spirits. Broxbourne continued to bat in the same aggressive way and Preston continued to pick up wickets, Arif (1-25) bowling the top scoring Osborne (32) and Ponder (2-11) bowling the dangerous looking Flynn (28) with his first ball. When Saunders caught a sharp chance at mid wicket off the bowling of Newell (1-3), it looked as though it would be Preston's day. The skippers turned to Rupert Bruce (1-3) to deliver the final blow and he duly obliged as Weald (22) skied a deceptive full toss. In ran Mark Carter to take the catch and seal a hard fought Preston win with Broxbourne 122 all out.