Firsts promoted!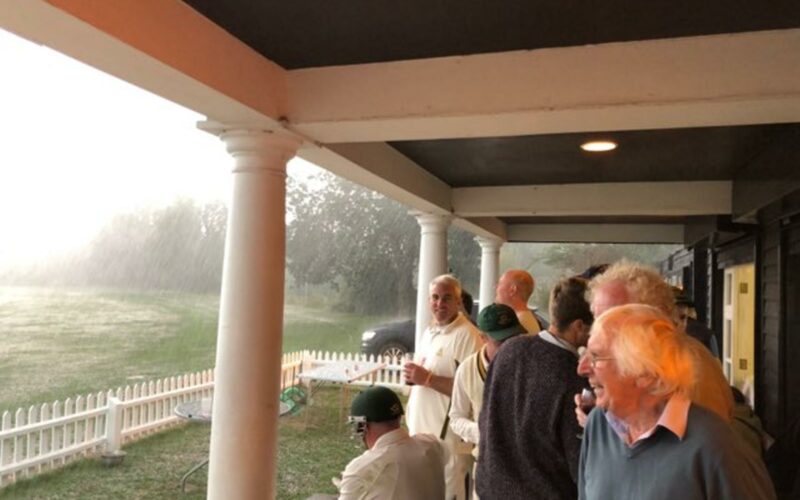 Match reports from last week and Saturday 25th August 2018
Preston v Berkhamsted, SHCL Div 2A
Preston secured the 30 points they needed to gain promotion to Division 1 thanks to a superb 95 run victory against Berkhamsted, a result which sees them move divisions for the first time in 19 years.
Winning the toss and electing to bat first Preston found going difficult all afternoon as the torrential rain the previous day ensured the pitch provided plenty of assistance for the visitor's bowlers. The innings was built around a match winning 71 from Aussie Lewis Balcombe, as he batted with great temperament to get Preston to a defendable score. Along with Warren Hearne, the only other batter to reach double figures (23), the pair put on a valuable 48 runs for the 8th wicket helping to get Preston to 161 all out in the 48th over.
Preston set about bowling their visitors out with great intensity with spin bowler Jack Stevens (10/6/11/3) proving a real handful alongside seamer Mark Waters. They squeezed the life from the Berko innings and Preston picked up regular wickets due to the immense pressure. The introduction of skipper and left arm spinner Max Anderson (7/3/8/3) and offie Pete Murrell (6.5/2/11/3) saw Preston roll through the rest of Berkamsted's batting. They had no answer to the trio of spinners who picked up the remarkable match figures of 9 for 30. Fittingly it was ex skipper Dave Fleckney who claimed the winning catch and set off emotional scenes as Preston secured the all important promotion to Saracens Herts Division 1.
Preston 2nd XI v Watford Town 2nd XI, SHCL Div 5A
The twos made a terrific effort to overhaul Watford's 216 for 9, but sadly fell short by 10 runs. The freshest batsman in the club, Jack Morecroft, led the way with 66, but the Twos latest defeat leaves them adrift at the bottom by 27 points. They require a miracle on Saturday, with Ickleford IIs their opponents.
Preston 3rd XI v Livestock Green 3rd XI, SHCL Div 9B
Safe from any prospect of relegation (or promotion), the Threes put up a good fight against runaway Div 9B leaders Leverstock Green 3rds. The LG bowling attack is the finest in the division, but on a damp, seaming track at Whitwell Preston managed to reach 159 for 8 thanks to Matt Burleigh's unbeaten 73* (to go with 72* in the first fixture), Oli Catlin's 30 and Iain Williamson's 21.
Bhav Patel then took 2 wickets in his first over thanks to catches from Oli Catlin and Miles Findlay. When LG sank to 18 for 4, with Oli executing a run out and Bhav castling one with a big inswinger, Preston sniffed a famous victory. Sadly, it was not to be. Swampy broke down, and the exceptional Bhav ran out of overs. LG then batted sensibly, simply waiting for the bad ball to put away, and went past Preston's total for the loss of only two more wickets.
Preston 4th XI v Potters Bar 4th XI, Reg Div B East
What a difference the rain makes. The 4th team had league leaders Potters Bar reeling at 110-5 off 28 overs when a heavy downpour halted play. With strong prompting from the Preston players, PB reluctantly put the covers on the wicket but only after a thorough 10 minute soaking had ruined it. There then followed protracted negotiations about overs lost, should we or shouldn't we have an early tea break and so on. After an hour's break, play re-commenced but with Preston's early momentum lost, the PB batsmen attacked for the remaining 8 overs plundering 68 runs to get to 178-7 off 36 overs. Bowling highlights were a miserly Maxwell spell of 8-4-6-1, Joe Clark back on form 2-31 and David Clark 2-42.
With a decent batting line-up Preston were hoping to come close, however those hopes were once again dashed by PB skipper Ellis who took three of the first five as Preston slumped to 37-5 in the first 10 overs. The poor batting continued down the order as Preston were eventually dismissed for a disappointing 107 off of 33 overs, Greig Hearne and Joe Clark top scoring on 16. More batting backbone is required in the bottom of the table clash next week versus Harpenden where 12 points are required to guarantee Division B survival.
Cricket week round-up
Preston's annual Cricket Week was another outstanding and well supported success. A tied match against a North Herts XI opened the week on Tuesday, with both sides making 188. Aussie Lewis Balcombe's visiting father Tony made 66 for the opponents, while Matt Burleigh's 84 not out for Preston almost won the match after we had fallen to 44 for 5. There was good support from Callum Blair in a 100-run partnership, and then some dashing between the wickets by youngsters Alex Williamson and Joe Clark helped Bomber to turn ones into twos and secure a tie off the last ball.
This was followed by a high scoring draw against Flitwick in an all-day match on Wednesday. Flitwick made 290 for 6 declared, before Will Gallimore opened up with 63 batting left handed, because he can. Jack Morecroft, fresh from finding enlightenment in India, was in fine form making 73 (was he playing village cricket over there as an overseas?). Preston ended proceedings 11 short of Flitwick's total.
Scorecard
On Thursday a strong Malcontents side dominated the all day game, as they almost always do, despite the amount of port consumed.
The entertaining President's Day fixture on Friday afternoon was finally ended by a sudden thunderstorm that quickly flooded the ground, but not before Blake Mills had thrilled the packed pavilion by peppering the Moretti's garden and the Mums at long-on with massive sixes.
Preston would like to thank all of their local supporters and well wishers who visited during the week.