Cricket Round Up – 6th July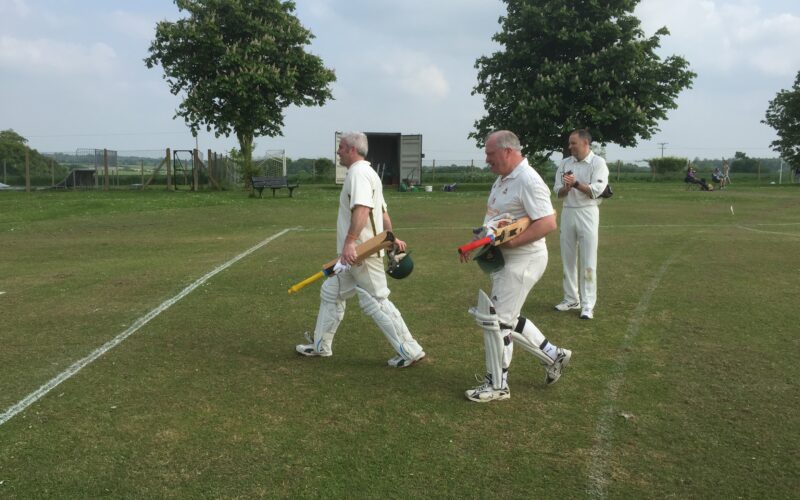 1s chalk up first loss of 2019, 2s have day to forget but 3s and 4s fly the flag!
Preston 1st XI v Langleybury, SHCL Div 1
At the half-way point in the season current Div 1 league leaders Preston CC welcomed the team close behind in second place, Langleybury CC. With Preston stumbling with the bat the match developed into a see-sawing, closely fought nail-biter of a game until the very final overs which saw Langleybury get home with just one wicket remaining in the penultimate over.

Preston lost the toss and were asked to bat by Langleybury Skipper Ross Channor. The decision was well founded with Preston's dangerous top four back in the pavilion with less than 30 on the board, Langleybury's opening attack of Oli Illott(10-3-33-2) and Mullapudi (10-1-40-4) getting amongst the wickets right from the get-go.

A sensible knock from Tim Collins at No 5 steadying the ship somewhat and he was looking settled, but was then tempted into the sweep shot and fell for 30, top edging to Manzoor lurking at fine leg. A total of 150 was looking achievable but with the wickets of Pete Gooden and Ben Hill also falling cheaply it was left to the lower order to keep their heads, take some time and graft out whatever they could. Despite only getting 20 runs each, it was the gritty determination of Pete Murrell and Warren Hearne that added 40 very valuable runs. With Skipper Max Anderson's typically pugnacious knock chalking up 15 more runs after the removal of Hearne the Preston innings disappointingly closed in the 49th over for only 143. 

Langleybury went into tea the favourites and buoyed up but the low total chase down. However, the afternoon hadn't finished with the surprises, as 'Bury found themselves 4 wickets down in only the 6th over. First ball of 'Bury's innings saw the over-confident Manzoor play a crazy drive off Mark Waters to be caught by the reliable Hearne at mid-off. But it was Jimmy Stevens – who bowled at times with hurrying pace and movement – that broke through the 'Bury top order with Carson bowled and Malhotra and Manzoor caught excellently by wicket-keeper Ben Hill. With the settled Walker (25) also being caught behind (again by Hill) off first change Collins, the confident Langleybury faces started to drop. 

With the sky darkening and the first spots of rain falling 'Bury needed to get on with things and with that chances could come. Channor, after a quiet few over,s started to play some bigger shots and getting hold of Waters in the final few overs of his spell. 

It was again Skipper Anderson who tied things up a little with Channor chopping on for an aggressive 27. With Anderson (10-4-16-3) also claiming Mullapudi as well as 'Bury's no 7 Andy Felton,  who played a patient and sensible innings for 25. But at 103 for 8 the game was balanced on a knife-edge. It was down to the lower order to win the game. 

Hats off to both Ross (23 not out) and Plant (29) ('Bury's no 9 and 10) who batted well against the tight bowling of Murrell and Jack Stevens – scratching out singles around the square, putting the Preston fielders under pressure and Plant especially taking the bowling over the top to score valuable boundaries. But with one final twist: the re-introduction of Collins removed Plant with the score on 140 to bring in no.11 Ollie Illott. However, Preston just couldn't snag the final wicket and Langleybury hit the winning runs in the 49th over.
A tremendous game first and foremost – congratulations to Langleybury for a great win. Clearly for both sides the initial plans didn't quite click on the day and some great cricket was played by both sides to dig out of our respective holes. 
Preston still sit on top of Div 1 but a good time to reflect and get back on the horse for next week's first encounter against Sawbridgeworth. Games won't always go to plan and despite this being the first loss for Preston since St. Albans CC in 2018 we can take some positives away. There will be bumps in the road and we have to expect that and we can't let this particular game become a hangover and fester. We re-group, recognize what went wrong and crack on into next week full of confidence about our abilities and achievements so far. The second half of the season awaits.
Preston 2nd XI v Mill Hill Village, SHCL Div 6A
Preston 2s were well beaten in their important match with Div 6A leaders Mill Hill Village, losing by 139 runs.
Some accurate bowling from the luckless Casey Walker at the beginning of the Mill Hill innings was not backed up in the field, with the hosts' openers reaching 50 in the 11th over. As skipper David Fleckney came on to change the pace, a sensational one-handed diving boundary catch from Will Mercer seemed to change the direction of the match as 54-0 became 111-6 thanks to Fleckney (4-33), a fantastic spell of 1-20 from 10 overs by the accurate Alex Gallimore and a wily 3-23 from Ash Catlin. However, Preston's remaining bowlers couldn't quite finish off the Mill Hill lower order and some late hitting saw a target of 202-9 posted, the slow outfield and assistance for the bowlers suggesting this would be difficult to achieve.
So it proved, as Preston could not find an answer to the seam movement of Mehra, Seem and Asif, only Catlin (22) achieving double figures as a limp batting display raised a total of just 63.
Preston 3rd XI v London Colney 2nd XI, SHCL Div 9B
The third team traveled to London Colney to play their seconds. As the three's lineup was packed full of bowling, skipper Swampy inserted the opposition. London Colney rode their luck as they passed 50 without loss. However, with the run rate barely passing 2.5 thanks to tight bowling and some good fielding, the home side looked to attack the slow bowlers.  Wickets then fell at regular intervals, with the pick of the bowlers being LHS (14-4). Swampy, Skinny and Bhav returned to polish off the innings. The last wicket falling in the last over for 134.
Skinny and Pushan opened up at a decent rate on the flat track. Skinny making excellent use of the fast outfield on his way to another 50. However, with the fall of Skinny, Preston again suffered a middle order collapse – losing 5 wickets for 30 runs. With only about 50 runs to win, Swampy steadied the ship (22* off 18 balls) to see the threes home by 4 wickets.  
Preston 4th XI v Welwyn GC 5th XI, Reg Div B East
The 4's put in another fine all round performance to beat WGC at Whitwell on Saturday. Preston's opening bowlers (Adam Turner 3-19, Luke Ponder 1-14) bowled a good line and length and were backed up by some exemplary catching and ground fielding, Nigel Biggs taking an excellent one-handed chance at short cover, Dave Saunders pouching two at gully and caught and bowleds for Turner, Ponder and Chris Newell. Having opted to bat, WGC found themselves at 52-5, however the big hitting Brett (68) and Vine (35) put on 70 for the next wicket, regularly finding the boundary and rooftops of nearby Tower Close. Once the flat, nagging off-spin of Chris Newell (3-19) had removed both, Preston quickly despatched the tail to leave WGC at 144 all out off29 overs.
Having kept wicket and conceded just one bye ("are you watching David Kay") Craig Tennant (88*)  produced a batting masterclass with a wide array of shots and despite an early wobble at 49-3, saw Preston to victory in 24 overs, with Luke Ponder (29*) ending his run drought at the other end.
Let's keep it going lads, 9 wins from 8 games so far and just 5 league games to go!