Cricket Round up – June 15th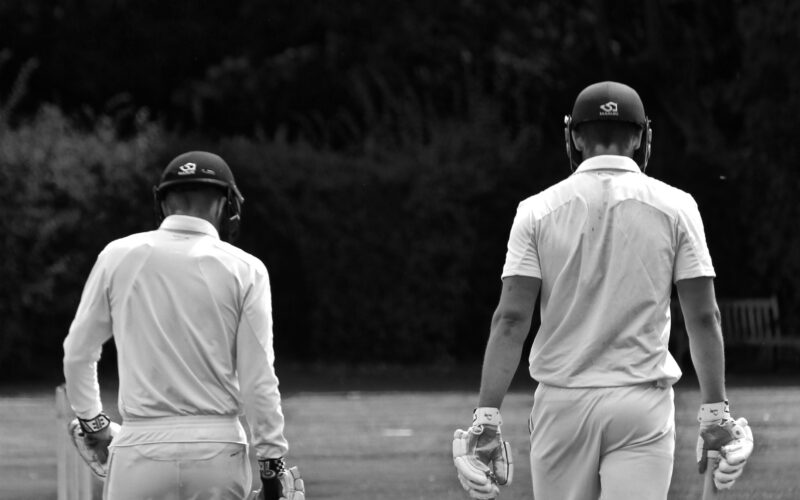 Match reports from 15th June 2019
Preston 1st XI v Knebworth Park, SHCL Div 1
Preston reached the summit of Saracens Hertfordshire Division One on Saturday despite being nowhere near their best, during a hard fought, low scoring game in the rain away at Knebworth Park.
Preston elected to bat at the toss on what appeared a decent looking track, despite the vexatious weather of the week. However, it was soon clear it would be hard going on a pitch that offered plenty of movement for all bowlers. Lewis Balcombe was the first victim to fall, getting through his shot far too early as the ball held up in the wicket, offering a simple chance to point. His dismissal brought Jack Stevens to the crease, joining his twin brother James, and the side were indebted to the former for reaching anything like a defendable total. Looking a level above anyone else who took guard on the wicket, Jack scored a composed and quite brilliant 67 while being at the crease for 100 out of Preston's 161 runs. No one else in the side managed to score above 20 runs – with Ben Hill (19) the next highest before he too had one deceive him off the wicket to be caught behind.
Despite being 20 runs under par at 161 all out. Preston knew they at least had something to bowl at, and that early wickets would be the only way to create pressure on a struggling side. James Stevens (8-1-32-3) was finally rewarded for another exceptional opening bowling spell and accounted for all of Knebworth's top 3, the last of which being a wonderful delivery cannoning into the top of off stump from around the wicket.
After seeing the success Knebworth's spinners had earlier in the day, Captain Max Anderson changed gears quickly, bringing offie Pete Murrell on in the 16th over. He produced a miserly spell of 10-3-26-3 to leave Knebworth struggling at 87-7 at drinks in the 25th over.
Victory seemed assured at this stage in the game. Yet Charlie Randall coming in at number 7 had other ideas, and in-front of a baying home crowd, batted out of his skin to take his side to within 14 runs of victory, scoring 53 runs off 40 balls.
Having hidden Knebworth's number 11, Graham Fisher impressively to this stage, Randall took a single of Anderson (8-1-31-2) with two balls remaining in the 38th over. The first was left well alone for a dot, but with the final ball Anderson got just enough from the pitch to have Fisher prodding forward and finding his edge, which deflected onto his pad before he was snaffled at short-leg to cue wild celebrations from the Preston side who knew they had snatched victory.
Preston take on Kings Langley back at home next week, following two consecutive weeks away from home with indifferent weather, and will be hoping their good form goes rolling on to consolidate their position at the head of the table in Division One.
Preston 2nd XI v Old Cholmelians, SHCL Div 6A
Preston 2nd XI lost a tight contest at home, with Old Cholmeleians' last pair scoring the winning runs in Div 6A.
Batting first, Preston found it difficult to find the boundary with Old Cholms taking pace off the ball from the outset on a true but slow surface. Skipper David Fleckney anchored the innings with a patient 78 but once he lost opening partner Warren Hearne to a direct hit run out, Preston struggled to rotate the strike often enough with only Will Mercer (21) and Ash Catlin (35*) adding double figures in a below par total of 171-8.
In contrast, Old Cholms attacked from the outset and, with chances missed, opener Sherry's swift 37 removed any pressure on the Old Cholms scoring rate. Ollie Gallimore (2-24) and, as usual, the deceptive Catlin (3-17) appeared to turn things around for Preston and they were well supported by a fantastic Hearne catch and two sharp run outs by Charlie Bruce. At 65/5 and again at 114/8 Preston looked likely winners but the game's outstanding player, the visiting Whybrow, steered the tail very effectively, his excellent 64 not out taking the visitors to victory.
Preston 3rd XI v Bayford 2nd XI
Despite a week of heavy rain, the Thirds were able to play at Whitwell thanks to the fine efforts of Nigel Biggs in keeping the pitch covered and in as good a condition as possible. Preston were put into bat by visitors Bayford 2nds, and got off to a good start thanks to some fine cover-drives by John Garnham, before he fell trying to launch one into the gardens. Bhav Patel didn't last long, and skipper Iain Purton looked out of sorts. At the other end Matt Burleigh was coping better with the slow pitch and even launched three – yes, three – straight sixes. Some big shots from Casey Hughes took Preston past 100, but no one apart from Burleigh really got going. His dismissal, caught Gatehouse-style at long-on for 61, slowed down the scoring rate, and Preston finished 166 all out from the final ball of their 45 overs.
Bayford's innings got off to a flying start, so Swampy made a prompt decision to bring on Bhav instead of himself. This quickly paid dividends. Bhav bowled superbly to grab three of the top four, and was ably supported at the other end by Gurpreet Singh. Three wickets in five balls reduced Bayford to 64 for 4 and put Preston in a strong position. Unfortunately, the visitors had strength and experience in depth, and they calmly batted their way towards the target. Preston winkled out another couple of wickets, but some poor fielding led to an air of inevitability about the result, and Bayford got home with a couple of balls remaining.
Preston 4th XI v Hatfield Crusaders 3rd XI, SHCL Reg Div B East
The table topping 4th team looked anything but title contenders as they travelled to Hatfield Crusaders on Saturday. After a week of rain, the Roe Hill wicket didn't disappoint, long grass and wormcasts aplenty greeted Preston as they lost the important toss and batted first.
Robbins (7) and Biggs (9) were in survival mode as balls shot low or reared off a length and the score proceeded at a pedestrian pace against the decent HC opening bowlers. A typically gung-ho 29 from Dave Saunders livened things up and at the half way mark Preston were 52-2. Kay (16) and Adam Turner (16) put on 35 for the fourth wicket but when the opening bowlers returned, Preston lost 4 wickets for 7 runs, leaving Newell (13*) and Bailey (10*) to see out the remaining overs and get Preston to an under par 120-7 off 40 overs.
Preston's cause wasn't helped when 3 catches went down in the first two overs of HC's reply and with the HC no.3 Shivean (46)  punishing every loose ball, HC were halfway there at 60-1 from the first 10 overs. Further dropped or missed catches cost the luckless Hamilton (1-21) a  five-fer. Things improved as the spinning duo of Newell (4-17) and Carter (0-14) slowed the scoring as the catches started to be held. First, Rupert Bruce held on to a skier in front of the away supporters on the boundary and 'no byes again' Kay snaffled a sharp leg side chance behind the stumps. Unfortunately it wasn't enough as HC reached their target at 121-5 off 27.4 overs with Preston second best in all departments on a disappointing day.