Cricket Round-Up Aug 3/4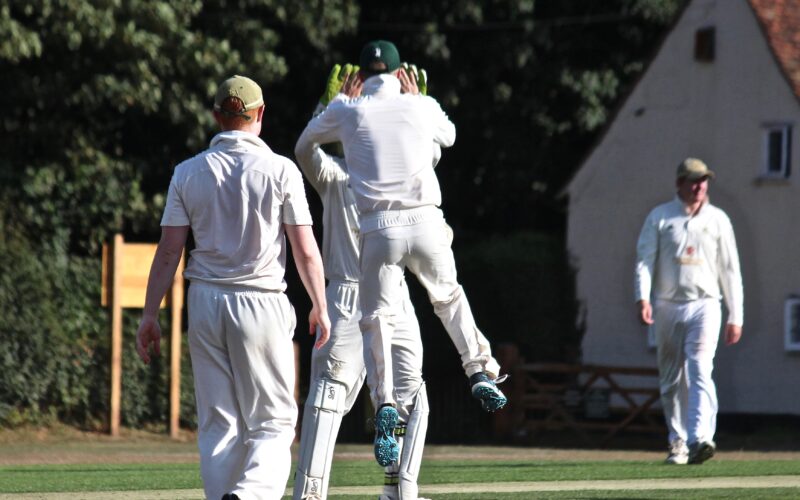 Preston 1st XI v Harpenden 2nd XI, SHCL Div 1
Following the previous weekend's rain affected matches in Saracens Hertfordshire Division One, leaders Preston were eager to get back on the park, away to Harpenden 2nd XI. And despite some evident rustiness from several members of the side, they came away with an important 4 wicket win, thanks in large part to a supreme partnership of 120 between openers Lewis Balcombe and James Stevens.
Upon winning the toss, Harpenden skipper Tom Stewart promptly elected to bat first on what looked a greenish but hard wicket.  Harpenden however quickly lost opener Bryn Luffman – caught sharply by wicketkeeper Ben Hill off the bowling of James Stevens. Soon Harpenden were 56-3 thanks in large part to a miserly opening spell from Casey Walker (10-2-24-1), and the hosts required someone from to find a score to prevent the innings falling away. Number four Caleb Stewart (57) provided that backbone to the home sides innings, biding his time at the crease before striking boundaries later on. He pushed his side towards 150 before Preston's captain Max Anderson (10-0-37-3) finally had him caught on the boundary after a couple earlier chances had been shelled. Following Stewart's dismissal Preston made short work of the Harpenden lower order, finally closing the innings at 187 all out in the 49th over. Young left arm spinner Alex Gallimore once more impressed with figures of 8 overs and 1 wicket for just 19 runs. 
On an evidently deteriorating wicket, beginning to take prodigious turn, Preston knew they would have to bat well in order to chase the total. More than ever a strong start against the new ball would be critically important, before scoring became tougher as the ball softened later on. Lewis Balcome (56) and James Stevens (46) delivered the goods for their side scoring at 4 and a half an over to race the total to 120-0 with victory seemingly assured. Cricket, however, is never so simple a game and in the blink of an eye the side suddenly found themselves firmly in a rut at 160-5 just 12 overs later. Preston needed one batsman to show some application and maturity in guiding them home. Jack Stevens (38*) once again showed his appetite for the business end of a run chase and steered the side over the line, despite wickets falling around him, and he ended the contest with a 4 to deliver a vital 30 points. 
Preston take on fellow title challengers Broxbourne this weekend at home in a mouth-watering clash, with the villagers looking to put some daylight between themselves and some of the chasing pack. 
Preston 2nd XI v Old Camdenians, SHCL Div 6A
Old Camdenians 275-8 (50 overs) beat Preston 214-9 (50 overs)
Preston 3rd XI v Parkfield & Headstone 2nd XI, SHCL Div 9B
A day to forget for the under-strength 3rd XI, who lost to the bottom-of-the-table side. 
Parkfield won the toss and batted first on their much-improved wicket, and racked up 216 for 8 from their 45 overs. Preston found it difficult to stem the flow of runs with only 10 men on a large playing area, together with a few dropped catches. The returning Neil Smith was the one bright light, with no signs of rustiness in his first appearance behind the stumps for about 4 years.
In reply Preston lost Iain Williamson and Matt Burleigh early on to a couple of pacy, swinging deliveries, and that knocked the stuffing out of the innings. They limped to 109 all out, and failed even to gain a batting point by one run. 
Preston 4th XI v Botany Bay 2nd XI, SHCL Reg Div B East
Botany Bay 191-5 (40 overs) beat Preston 161 (33.1 overs)
The fours remain top of their division with just one game remaining (on August 17th), but after a disappointing result on Saturday at Botany Bay they may well need to get a few points in that final match.
Preston Sunday 1st XI v Caldecote, Beds League Div 2
Preston 211 for 6 (40 overs, JackMorecroft 63, Ben Hill 51*) beat Caldecote 191 (39.3 overs, Max Anderson 3 for 30, Alex Gallimore 3 for 15)
Preston Sunday 2nd XI v Knebworth Blues, Friendly
On Sunday Nigel Biggs led the latest outing of the Sunday Twos over to Fairfield for the annual fixture with Knebworth Blues, with five Under 15s among Preston's side. 
Greeted by a hard, flat wicket, Nigel elected to bat and soon Iain Williamson and Matt Burleigh were enjoying the conditions on their way to an opening partnership of 114. Bomber fell stumped for 43, but Skinny went on to a score of 78 before he was bowled by the left arm pace of Blues' Saif. Push only made 3 and Tom Harvey was unfortunate to steer another Saif howitzer straight to gully's hands for 5. 
But Luke Ponder (39*) continued his fine batting from two weeks ago after a hesitant start against the paceman, and was soon smashing them to the boundary in an excellent stand with Greig Hearne (41*). Luke's best shot was a genuine hook to a Saif bouncer, with his head nicely inside the line of the ball, while Greig returned to form with a lusty square cut for 6. The pair added 79 from the last 10 overs to see Preston to a total of 216 for 4 from 40 overs.
Jacob Williamson grabbed two wickets in his opening spell, including one to a good catch by Tom Harvey at mid-off and another by his diving father behind the stumps. Brother Alex also got one when Bomber finally managed to move across from gulley to take the top edged catch. Swampy cleaned up Dave Saunders after the Big Bird had smacked him for two fours over cover, and Blues seemed to be sinking at 75 for 5 at drinks. 
However, Blues' two best batsmen were now at the crease, and David Baker (79*) and Neil Tompkins (54) took advantage of some looser bowling to power the home side towards their target. Nigel bowled Tompkins, and Swampy returned to try and win it for Preston. The youngsters charged around the outfield trying their hardest to stop the boundaries, but the Blues got home with 3 balls to spare.