Cricket Round-Up 20th July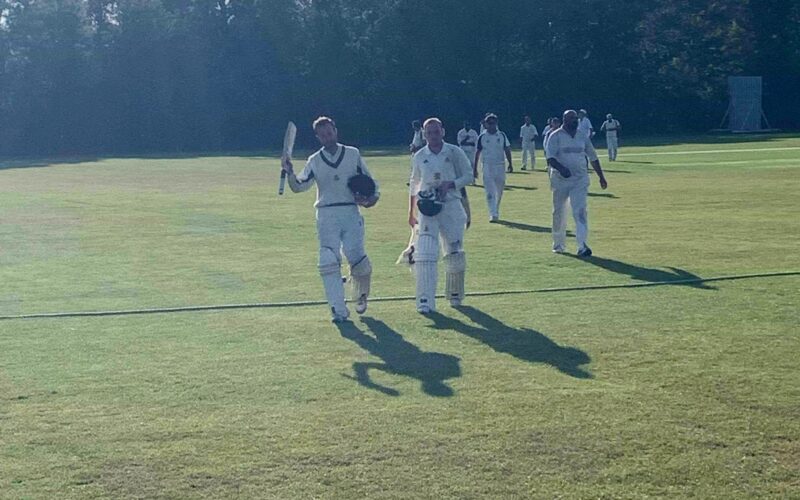 ---
Match reports for Saturday 20th and Sunday 21st July 2019.
Preston 1st XI v Old Albanians, Div 1
Preston 1st XI completed their first double of the season away to Old Albanians on Saturday in a hard fought victory, on a rain affected pitch, thanks to 5 wickets from Peter Murrell and a superb 54* from George Biggs. 
A ubiquitous call to bowl first was made upon immediate inspection of the pitch because of severe leakage from the covers, although this meant a delayed start to the game. Thankfully captain Max Anderson got back to winning ways at the toss and promptly inserted OAs. Unsurprisingly, opening bowler Mark Waters headed down breeze aiming straight for the wicket's wet patch. In an unbroken spell he removed both openers, including the dangerous Usman Farooq (24) and with his final delivery took care of Robbie Goldstone LBW to return figures of 9-2-23-3. 
With all other wickets falling to catches either at the wicket or behind, Preston made real inroads into the Old Albanians order at 81-7. All of Preston's spinners bowled with impressive control and particular credit goes to 15 year oldAlex Gallimore, who greatly impressed on his first team debut, getting through 8 important middle overs for the loss of just 36 runs whilst also picking up a wicket. A confident Murrell (6-1-15-5) continued to chip away at OAs in conjunction with Preston's fielders to eventually dismiss the home side for 121 in the 37th over of their allotted 41.
Heading into the second half of the match, victory seemed fairly assured for Preston as they raced 21-0 in the 4th over. It soon became apparent however, that scoring was not as easy on the wicket as had initially been thought. Opener Pete Gooden was dismissed caught behind and the side managed only 5 runs from their next 6 overs. With Lewis Balcombe soon joining Gooden in the pavilion, caught sharply at short-cover, and Jack Stevens (17) dismissed caught behind after looking settled, Preston found themselves floundering somewhat at 50-3 with the ball still moving around significantly off the wicket. Kamran Choudhry was (5-1-7-0) the best of the OAs bowlers, despite returning wicketless.
It was to Preston's advantage that Biggs took the majority of Choudhry's overs. He batted with immense application, maturity and a little luck to overcome the OA pressure before cutting loose with nine 4s in a match winning knock of 54* from 64 balls, to guide his team home in a stand of 72 for the 3rd wicket with Jack Morecroft (14*). Fittingly the winning runs coming off his bat in the 34th over.
Another 30 points secured for the 1st XI but by no means an easy win against an impressive Old Albanians bowling attack. Next week the side host local rivals Hitchin in another crunch clash.
Preston 2nd XI v Hemel Hempstead 3rd XI, Div 6A
Preston 189 (49.5 overs)  lost to Hemel 191-7 (47.2 overs)
Preston 3rd XI v Cheshunt Rosedale 3rd XI, Div 9B
Presented with a damp wicket at Wormley's ground (now shared with Cheshunt Rosedale), Skipper Iain Purton lost another crucial toss and Preston were inserted on an old-fashioned sticky dog. Bomber and Mark Smith opened up against two wiley old spinners. With no pace in the pitch Bomber was forced to heave a few boundaries, but Mark struggled to get going, and he eventually holed out to mid-on. The Thirds then underwent their now customary collapse as Pushan and Gabriel quickly went. "Never bat on a drying track" said the sage Greig Hearne, and he proved it by hooking a bouncer into his stumps first ball. Gambo nicked off and suddenly Preston were 5 down with barely 50 on the board. Swampy then got stuck in with Bomber until the opener fell for 42, tamely poking one to gulley.
Fortunately, Gurpreet chose to have his finest day with the bat so far for Preston, and he whacked anything short and sitting up. Swampy was out for 18 but Kaos hung around to  helpGurpreet (47*) take the final score to 132 for 7 from 45 overs, which was at least something to bowl at in the conditions.
With the Sun beating down through a leisurely tea, Cheshunt Rosedale were faced with a distinctly drier track and, as their innings progressed, a noticeably faster outfield. None-the-less, Preston's bowlers and fielders fought hard and never gave up. Gurpreet picked up a wicket and could have had more. It was one of those days, as the stumps seemed to shrink every time the bat was beaten, and mistimed shots fell agonisingly out of reach. Arif also had little luck, so the skipper turned to young Pushan's leggies. This seemed to baffle the batsmen, and for a while the runs dried up. Kaos managed eventually to stump his man to give Push a deserved wicket, and at the other end Gambo was just as miserly. He too got a wicket from a skier when Kaos finally reacted and turned his behelmeted head towards the heavens. Two steps to the right and pouched.
But Cheshunt's opener read the chase perfectly, and with the assistance of some lusty blows from the middle order, he went past 50 and saw his side home by 6 wickets with 3 overs to spare. A good effort from the Thirds, but sadly only a meagre 6 points to show for it.
Preston 4th XI v Tewin 2nd XI, Reg Div B East
The 4th team welcomed old foes Tewin II to Whitwell in a hotly anticipated top of the table clash. With the toss lost yet again, openers Garnham and Tennant got Preston off to an excellent start, conserving their energy by scoring exclusively in 1's or 4's, several dropped catches costing Tewin dearly as the score moved along to 80-0 at the 20 over mark. Garnham(39) departed soon after, lbw sweeping a spinner and Tom Maxwell (15) continued the 1 or 4 trend until pushing back a caught and bowled. With 12 overs remaining, Tennant (106) began to cut loose contributing 55 of a 70 partnership with Biggs (25*) and reaching his century in the 37th over. Preston closed on 204-4 off 40 overs, a decent total on what was a lively wicket.
In reply, Hamilton (1-28) and Ponder (0-21) bowled an excellent opening spell as Tewin found runs difficult to come by, Hamilton in particular extracting extravagant bounce and nip. At the halfway 20 over stage though, it was neck and neck with Tewin on 78-2, Maxwell (1-27) having removed Tipper (17) caught behind. However, the game changed dramatically in the space of three balls as first Biggs bowled opener John Taylor (53) and two balls later his son Taylor D (35), was run out in a reenactment of the Jason Roy/Jos Buttler world cup run out, this time Oggy firing in one bounce from the boundary and Garnham taking the stumps. With the Preston fielders giving their all, Bruce galloped round from mid wicket to catch a skier and Tewin fell increasingly behind the run rate as wickets continued to fall. Biggs (5-29) and Newell (2-38) bowled out the remaining overs and batsmen, leaving Tewin 173 all out in the 39th over. 
Well done lads, a tremendous all round effort and result!
Preston Sunday 2nd XI v Breachwood Green, Friendly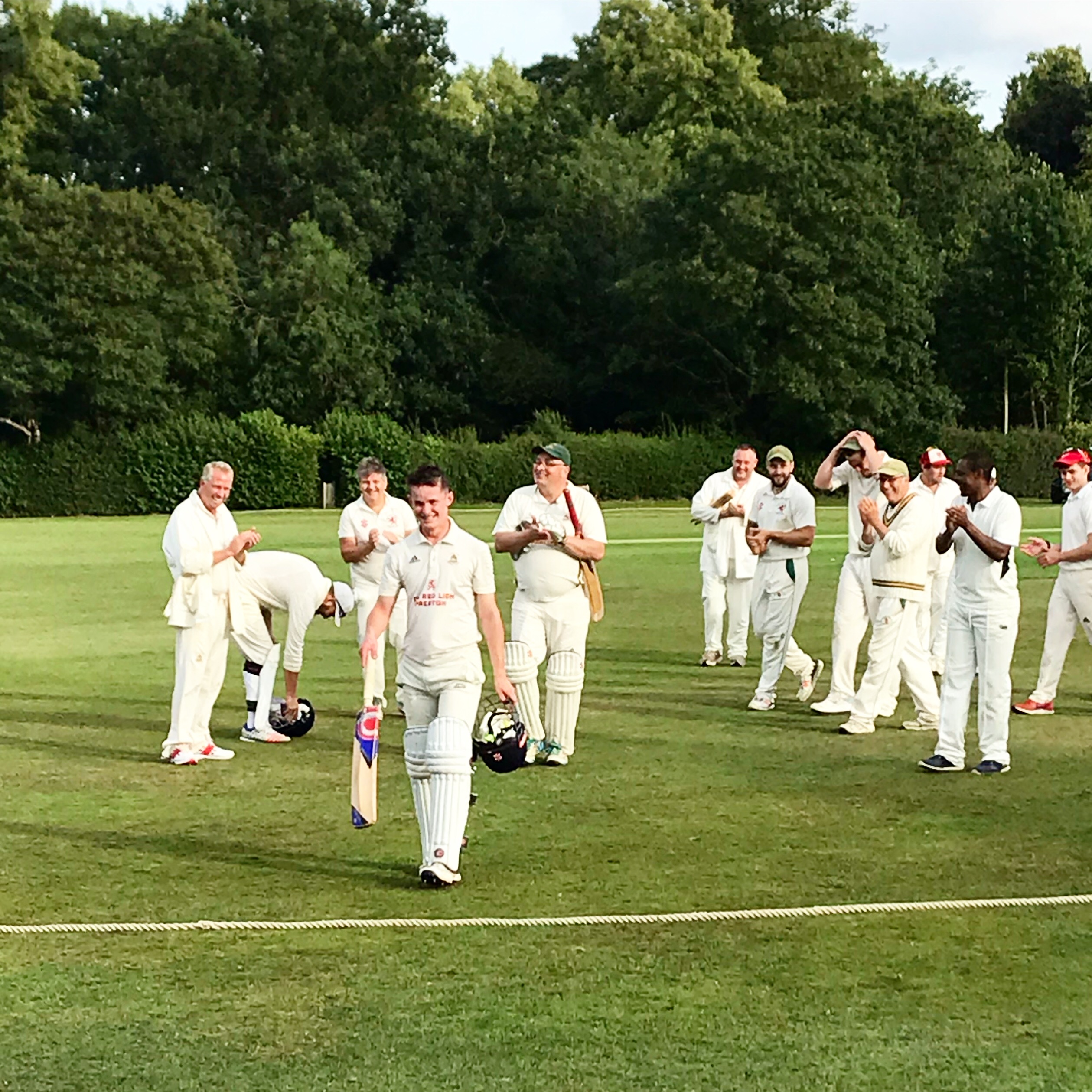 No Beds league match for the Sunday firsts this week, but the twos had a rare outing at the Field of Dreams, hosting near neighbours Breachwood Green for we think the first time in 25 years or more. Among their number was our local MP, BimAfolemi, who is also a regular visitor to the village.
BG took first knock, and Skipper Nigel Biggs asked Jacob Williamson and Luke Ponder to open the bowling. Luke immediately hit the top of off stump for his first success of the day, and BG progressed slowly against some tight bowling from the Preston youngsters. Skinny and Arif kept up the good work, and at drinks BG were just 43 for 2. But then the big hitting number 4 got going, and so did Preston's fielders, usually into the road to fetch the ball back. Bomber returned from one trip with several long lost old ones. Fresh from his five-fer the previous day, skipper Biggsy took responsibility, and finally cleaned up the Breachwood Stokes for 67.
In came the local MP. "Aim for the centre right" advised Kaos, to Bim's amusement. After tentatively blocking a few, Bim smashed a beautiful cover drive to the boundary. Those afternoons in the Eton nets weren't wasted. But evidently he'd never faced Aussie leg-spin, and amongst a fair amount of dross, Balco managed to pitch and turn one into a bemused Bim's stumps.
Luke's safe hands on the boundary gave the Preston Steve Smith another wicket, and then
Kaos provided some more comedy as a skied attempted sweep shot off Bomber's bowling landed three feet to his left. He hadn't moved. Or looked up. Jacob returned to grab a wicket, Kaos underarmed a run out, and BG finished their 40 overs at 185 for 9.
A fine tea was provided by Abi and the vice-chairman, and then Bomber and Muzza settled into a productive opening stand of 68. Bomber just about out-paced Muzz before playing across a Yorker for 33. Alex Williamson (10) kept Muzz company in a 2nd wicket stand of 45 before Muzza (57) holed out to the Tory cabinet hopeful, who was as shocked as anyone to cling onto it. "I'll never hear the end of this," said his parliamentary assistant, Jack.
Mark Carter didn't last long, but Luke Ponder's first two scoring shots were sixes and he proceeded to play his best innings for Preston to date. With Kaos's assistance, he took Preston closer to the target and realised he had just enough runs available to try and get his first club 50. Kaos (12) didn't help that equation by smashing one for 4 through midwicket, but then he nobley sacrificed himself to make sure Luke got the strike.
With the scores level, Luke, 46 not out, knew he had to hit a boundary. Unfortunately, the bowler slipped one down the leg side, the keeper missed it, and the Preston hill took it speeding over the rope to the sound of groans from the spectators. Never mind Luke, there'll be another chance before too long.
A thoroughly enjoyable afternoon's friendly cricket against a lovely and local visiting side, and a great opportunity taken once again to give our young (and older!) players a good game to practice and grow their skills.