90 Point Slam Weekend – Cricket Round-Up 10th-11th August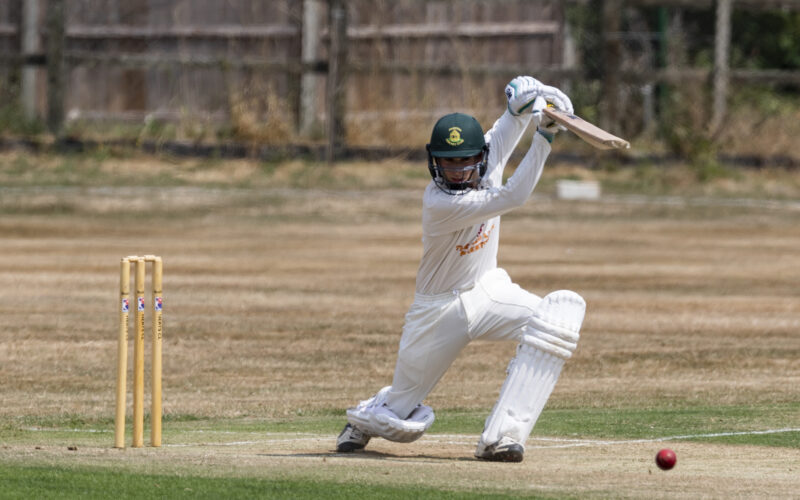 With the 4 th XI enjoying a week off, the forecasts of 50mph winds for Saturday were not mistaken as
all three Preston sides blew through their opponents to make it a full house of 90 points for the club.
Preston 1 st X v Broxbourne, SHCL Div 1
Saracens Herts League Division 1 leaders Preston triumphed by 23 runs over their close league rivals,
Broxbourne on Saturday, thanks in large part to a standalone innings of 63 from Jack Stevens and a
domineering all round display from the enigmatic Pete Murrell. The offspinner scored a vital 29* at
the back end of Preston's innings before bowling unchanged through 9 overs, claiming one wicket
and conceding just the 25 runs.
After winning the toss skipper Max Anderson immediately elected to bat, meaning testing conditions
for the fielding side with high winds. Preston, however, were soon without James Stevens who
clipped a catch off his pads into the wind for just the solitary run. Replacing his brother at the crease,
Jack batted with great authority and control with Lewis Balcombe (26) in a partnership of 54 for the
2 nd wicket. Stevens' innings contained several powerful strokes, particularly one dismissive pull off
Broxbourne's Sammy Miller after receiving instruction to test out the 6 foot 7 batsman with the
short ball. Stevens looked a class above throughout his knock until when well set he was deceived
and bowled through the gate. With his dismissal the side were still well placed at 110-4 in the 30 th
over.
Though, as is becoming commonplace in Preston innings, a swift mini-collapse ensued as the next 3
wickets were lost for just 23 runs to leave the game in the balance at 133-7 in the 37 th over, as the
rain began to hammer down.
With tea taken early due to the rain, both sides emerged in a newly constructed 44 over per side
game. The reduced match released the pressure from the Preston batsmen, and they proceeded to
score 75 runs from the remaining 7 overs, lfting the side from a place of precarity, to one of power
at 198-9 at the close of their innings. The side owed a considerable debt to Pete Murrell and Warren
Hearne (13) who struck a partnership of 41 together in just 22 balls. The pick of Broxbourne's
bowlers was Liam Robinson who returned 4 wickets from his 10 overs for 36 runs.
With Broxbourne's top four batsman scoring over 1700 runs thus far in the league, Preston had
plenty of work to do in order to defend their total. After a mixed start, going for 20 from their first 3
overs, James Stevens (8-1-36-3) and Tim Collins (9-2-28-1) slowly began restricting the Broxbourne
scoring. Hamad Ahmed was soon back in the pavilion after a lifting delivery from Stevens was caught
diving by his brother Jack in the slips. Broxbourne's dangerous opener Gagan Dissanayake (22), then
attempted to swing a ball away into the leg-side off Collins, only to be safely caught by Anderson at
cover to bring Preston back into the game at 36-2 in the 11 th over.
Broxbourne's hard-hitting captain George Davies was next man to the crease, and after playing out
the first two balls of Stevens' 6 th over, he nicked the 3 rd ball to a diving one handed catch from keeper
Ben Hill to depart the pitch for 0 and leave his side up against it.
Anderson, sensing the momentum of the game had shifted and that the clouds were looming,
turned to his tried and tested formulae of Preston's spin attack. Jack Stevens removed Chris Sargent
for 18 as Preston really turned the screw, conceding just 32 runs from the following 13 overs and
claimed the final top order batsman, Charlie Willis, caught & bowled by Anderson for a hard fought
20.
Broxbourne now required 99 runs to win from the remaining 72 balls, pushing the required run rate
up to 8 an over. Preston continued to bowl and field tightly as a unit, forcing the Broxbourne
batsmen to take risks. Their lower order pushed hard to stay with the rate, Niall Robinson (37) and
Benji Richardson (39) ensured the innings did not fall away. However, despite 16 being scored from
the 42 nd over, Broxbourne needed 32 from the final two overs and once Richardson was run-out by
Anderson off his own bowling, the game had officially ended as a contest. Broxbourne finishing 23
runs short as a superb all-round performance from Preston saw them end justified winners for the
second time this year, against a strong Broxbourne side.
Preston host Knebworth Park this weekend, who are fresh off the back of their first two wins this
season and will be desperate to claim another win to lift themselves out of the relegation zone.
Table
Scorecard
Preston 2 nd X v Cockfosters 2 nd X, SHCL Div 6A
In Div 6A, Preston 2 nd XI thrashed Cockfosters 2nds by 7 wickets. Casey Hughes took 6 wickets for 14
runs with his pace bowling as Cockfosters crashed to 62 all out. Preston lost three early wickets,
before the Mercer brothers made 17 not out each to see Preston to an emphatic victory.
Table
Scorecard
Preston 3 rd X v Boxmoor 2nds, SHCL Div 9B
In Div 9B, Preston 3rds won a crucial victory against Boxmoor 2nds at Whitwell.
Swampy lost his 8 th toss in a row, which must be approaching some sort of club record, and Preston
were asked to bat first. Young Pushan strode out to open with Bomber, and unveiled two silky pull
shots for four to underline his obvious talent. "I like pacers!", he said with glee. Unfortunately, he
soon received a nasty lifting delivery and could only glove it to the keeper.
LHS was just getting into his stride when he too received a nasty lifting ball from a length, which
struck him on the chest and helmet. Understandably put off, he missed the next ball and was bowled
for 19. Andy Riant enjoyed his opportunity up the order and played some good shots, including one
which bounced over the fence into a garden and the tinkling sound of greenhouse glass. Lardy holed
out to mid-off for 21, but Bomber was going along nicely at the other end and strode out to hit the
left-arm spinner for a couple of 4s through the off side. Unfortunately, he tried this once too often
and a thin edge was caught behind for 42.
With runs on the board, Greig (32*) and Swampy (18*) were able to settle into a nice partnership. A
couple of rain breaks reduced the overs, but the pair took Preston to a competitive 172 for 6 from 41
overs.
James Skirrow then bowled an excellent, pacey and aggressive spell to set Preston on course for
victory. The visitors didn't really fancy his bowling, and he took 4 for 31 in 9 overs, helped by
excellent catches by LHS at gulley and Swampy at 2 nd slip. Lardy also bowled well and picked up 3 for
41 from his 9 overs, and it meant Boxmoor were never really going to threaten Preston's total.
Gurpreet's miserly 2 for 12 in 7 overs and a wicket for Arif finished things off, as Boxmoor were all
out for 108.
Table
Preston Sunday 1st XI v Kempston Hammers, Beds Div 2
Preston's merry band of hangovers set off early from the village green for Bedford and new
opponents Kempston Hammers. To much groaning, Balco lost the toss and the home side elected to
bat first.
Fortunately, the sensible Gurpreet was quickly into his stride and among the wickets, and at the
other end Oli Gallimore was mostly accurate. Indeed, his best delivery pinned the batsman on the
back foot plumb in front of middle. Unfortunately, it was a no ball and Kaos was too bust appealing
to stop it going for 4. The resultant free hit was smacked over mid-wicket for another 4. Should have
been a wicket, went for 9 instead. Genius, BA!
Max Anderson bowled a miserly spell, and at drinks Preston seemed well in control. But then the
biggest hangover of the team, Pete Murrell, then came on to bowl. And what a pile of dross came
down, as Pete tried the lot – off-spin, seam up, leg spin…. It certainly wasn't Gary Sobers – more like
Gary from Men Behaving Badly. The only style of bowling he didn't try was left arm spin, but
whatever he produced kept disappearing to the boundary. A giggling Max at long off was heard to
mutter "go on, hit him for another 6".
At the other end LHS's leggies were baffling Kaos as much as the batsmen, Luke had a go, and
Gurpreet returned for some more sensible stuff. Kempston finished on 181 for 9 from 40 overs.
Muzza and Bomber opened up. Bomber cut the left arm pacer for 4 but was still greeted with a
chorus of "too quick, he's frightened of you" from the slips. The choir of rubbish sledging was to
continue for pretty much the whole innings, and even the mild mannered, ever cheerful Arif got sick
of it. Nevermind, Pete's eyes lit up as he was given the opportunity of a no-ball free hit and he
deposited it onto the roof of the changing rooms.
Bomber survived a close run out which only served to wind up the home team heroes, and Pete may
have been a little unlucky with an LBW decision. Wilson somehow converted a 65mph half volley
into a 2mph dolly to slip, and Arif emerged from the pavilion with a heck of a nosebleed. Still, he
survived the paceman and smashed two full tosses to the boundary. Bomber was then perhaps also
unlucky with an LBW shout.
By now Preston were a bit behind the run rate and with thunderclouds all around and a couple of
breaks for rain, skipper Balco decided he needed to accelerate in case the game was washed out. He
hit some big sixes and fours and inched Preston ahead of the run rate. LHS helped with some deft
shots to the boundary, but Balco missed an attempted slog and was given LBW. "I was plumb," said
that rare creature, an honest Aussie.
Max and Luke Ponder were now together, and needed to stay ahead of the run rate. Max had his
proper batting head on, and only chose to launch those deliveries that fell into his arc. Luke started a
little nervously, but was soon also striking boundaries. Together, they took Preston most of the way
to victory. The fielders were a bit quieter now. Luke was given run out when he didn't shout "In" fast
enough, and Gurpreet embellished an over-acted defensive shot that Larry Olivier would have been
proud of, making sure Max kept the strike. The winning boundary came and Preston were home by 3
wickets, minutes before the heavens opened.
Table
Scorecard