Cricket Reports – 23/24 July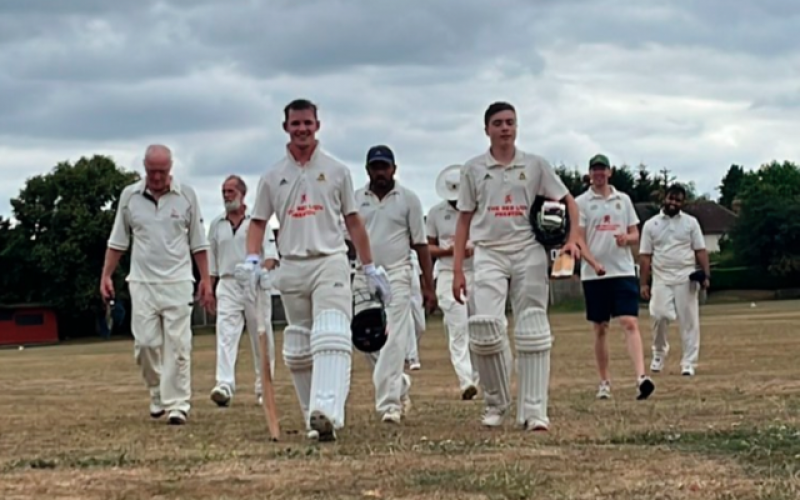 Preston First X1 v Broxbourne First X1
Broxbourne won the toss and elected to bowl and it looked like the tactic was a good one as Preston mustered an under-par 174 all out in the 53rd over. After a positive start by Preston opener Jimmy Stevens (41) it was the relentless pressure from Broxbourne's Conor Ridley (7/52) that made life very hard for the Preston players to get any proper foothold. The Preston lower middle order did take the fight back to Broxbourne but all fell for less than 20 with only Skipper Anderson clobbering 22 at the end which gave the Preston innings any chance.
However, Broxbourne were also finding the going hard with Wharton snagging O'Sullivan second ball and at 74/5 Preston could sense that they were well in the game. Broxbourne's No 5 Davies had other ideas however and started to build what would become the match winning innings of 91 that finally took the game away from Preston. Boroxbourne won by 4 wickets reaching 180/6 in the 38th over.
Preston are now in bottom position and have a fair bit of work to do for the rest of the season. However, more games bring more opportunities and the squad needs to look at their game positively and go hard in these last few weeks. As the old adage says, there's a lot of cricket left.
Preston Second X1 v Broxbourne Second X1
Preston 2's were also up against Broxbourne in Div 5A. Preston won the toss at the home of the Badgers and elected to bat on what looked like a flat deck and fast outfield. With a superb innings from Preston's opener Pete Gooden (85) the Preston batsmen all contributed to make a decent (if not slightly below par) 221/6 off their 50 overs.
The Broxbourne chase started slowly with Waters and Gallimore bowling straight and some excellent fielding from Preston made runs difficult – but with an outfield as fast as it was; more attacking shots didn't really materialise. Broxbourne's young no 4 Rodman made a patient 50 but perhaps used up too many valuable overs which meant the run-rate was slipping away from Broxbourne with every ball. Gallmore (3/35) removed the dangerous Willis when he looked like he was starting to get the bit between his teeth.
Eventually the total was too much and the home were all out for 149 in the 49th over which maintains Preston promotion push and the lads currently sit in second place. Preston's Gooden also received the Broxbourne 'Man of the Match Award' kindly presented by the Chairman of Broxbourne.
Preston Thirds v Flamstead
Preston Thirds continue their promotion charge and remain on top of Div 9B after their comprehensive win over Flamstead by 124 runs. Flamstead elected to field but were up against a strong Preston batting line-up. Skipper Skirrow led the way with a well made 57 and young gun Luke Ponder also making a quickfire 53. Staddon 34, Blair 28 and 26 from Jacob Williamson all contributed to their daunting 259/7 off 40 overs.
Flamstead never really got the chance to get going with some tidy bowling from Preston but it was once again the flight and guile of Arif Islam (4/39) that unpicked the Flamstead line-up and their innings finished on 135 all out for another great win for Preston's promotion hungry Thirds.
(Photo attached is Luke Ponder and Jacob Williamson)
Preston Fourths v LGC
The Preston Fourth X1 also had another great win in a tight, nail-biter at Fairfield park winning by two wickets with just two balls to spare. The Preston side elected to field first and did well in the heat and with the quick Fairfield outfield to restrict LGC to 204 all out of the 40th over. Preston Andrew Hedges claiming 3/29.
It was Preston's Craig Tennat (94) that laid the foundations for Preston's win and ably supported by that man Hedges again with a patient knock of 50. Preston's evergreen Riant and Biggs steered the ship carefully into harbour with Riant hitting a four to win the game on the second to last ball and chalk up another victory which gives the Preston Forth X1 a glimmer of promotion gold.