8/9 May – Roundup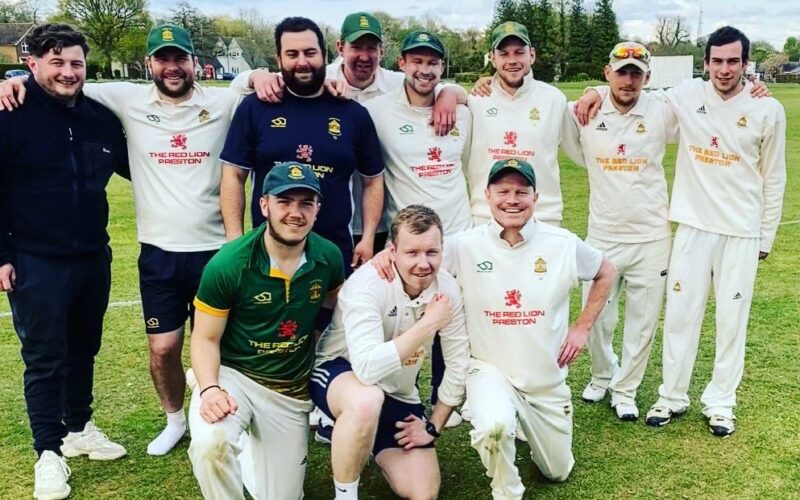 WOW, what a difference 24 hours can make. From a wintery league start on Saturday to a scramble for the sun lotion on Sunday. We start the weekend wrap in reverse this week as the main headline was an outstanding team performance that saw Preston beat 2017 & 19 winners, Reed, in The National Village Cup. Setting up a huge home tie against Sawbridgeworth on Sunday, 23rd May.
Sunday 1st XI – Preston continued their journey in the National Village Cup with a 56 RUN victory over Reed. Being asked to Bat first, Preston cautiously moved 51/3 off their first 20 overs, Plumb (23) seeing off a moving new ball. However, conscious of an experienced Reed batting line coming, Preston started to move through gears amidst middle-order wobble. It was here, captain Pete Murrell took it into his own hands, scoring a near run a ball 38 before Max Anderson bludgeoned 23 off 16, which swung the game in Prestons favour setting Reed 168.
Reed, as expected, set off with real intent; however, experienced opening bowlers Casey Walker (1/27) & Oliver Gallimore (2/41) picked up much-needed wickets every time a partnership loomed. Highlighted by Jack Moorecroft's flying one-handed catch, which put Preston in the driving seat with Reed 43/3 off 11. This allowed Murrell & Tim Collins to get stuck into Reed's middle order, which offered little once Richard Barlow fell for a well crafted 49. Preston continued to take regular wickets before finally bowling Reed out for 111, winning by 58 runs. Tim Collins finishing for 4/18.
Preston will now host Sawbridgeworth in the next round after they were victorious over last years finalist, Redbourn. Both teams will be well aware of the recent success of Reed & Redbourn in the NVC, adding extra spice to the tie. Both believing they can go far in this season's competition.
Preston are hoping to welcome visitors (rules permitting) on 23rd with several Covid secure drinks, food stalls and entertainment on offer. Keep the diary free. Preston CC Vrs Sawbridgeworth CC
1pm 23rd May, 2021
Sunday League XI – Travelled to Elstow in the Beds League and what game it was. Batting First Elstow mustard up 158 after a great team bowling performance. Henderson (3/24) and Islam (2/31) the pick. Henderson (22), Wides (38) and James Skirrow (42*) batted beautifully; however, Preston agonisingly ended up 1 run short. We would also like to wish John Ashby a speedy recovery.
Saturday 1st XI – started their Championship campaign off with a 41 run loss over Hemel Hempstead. With the game reduced to 35 overs aside, Preston chose to field first, bowling & fielded excellently. Walker (0/20), Anderson (1/23) and Murrell (0/26) going for just 69 off their 21 overs.
Eventually set 162 to win; Preston set off in a comfortable fashion with both openers James Stevens (42) & Phil Simpson (17) batting with good intent. However, looking like the game was set for a close finish, Preston crumbled from 83/3 to 120 all out. The team will be looking to bouce back next weekend against Langleybury.
2nd XI – promotion campaign got off to a great start with a 91 RUN WIN over Old Cholmeleians CC. With the game reduced to 30 overs, Preston set an impressive 166. William Gallimore (41), along with old guard David Fleckney (55*) & Warren Hearne (50), looking on fire form. Old Cholmeleians CC offer little resistance in return, ending up bowled out for just 75. Waters (3/6), Fleckney (4/16) and Battersby (3/23) doing the damage.
⛈ 3rd XI – The Weather won.
4th XI – cam second to a vert good Flamstead side. Set as a 35 over game, Preston set a stately 191. Run machine Garnham (61), Iain Williamson (32), Saunders (40) and Nigel Biggs (35) all scoring well. Flamstead, though, didn't get the memo and chased down with 7 balls spare. Jacob Williamson 1/23 ending with respectable figures.
You can find all scorecards on play cricket: https://prestoncc.play-cricket.com/Matches
#UpTheP's